Francs - Côtes de Bordeaux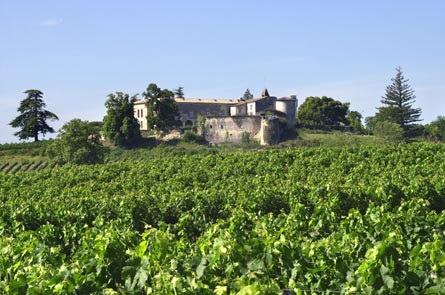 Situation d Vineyard location: 50km/30 miles north est of Bordeaux, 10km/15 miles east of St Emilion
Area: 500 hectares spread over 3 villages
mean area estates: 6 hectares
Mean annual production: red 29 000 hectolitres, white: 1 000hl
winegrowers: 77
Cooperatives: 1
Soil: "asteries" limestone covered with chalky molasses called "from the agenais". Continental climate: dry and harsh winter and hot summer. The land is exposed to is high on the slopes and very sunny, spared the hail ans rain following the valleys of the Isle and Dordogne.
Grape varieties:
Red: 50 % merlot, 25 % cabernet-franc, 25 % cabernet sauvignon, white : 60% semillon, 20% muscadelle, 20% sauvignon
History :
507: Clovis (First king of Francs) defeated the king of wisigoths and seized on Aquitaine. The location determines the detachment is called "ad Francos" meaning "Aux Francs" and "Francs".
1893 : discovery at Tayac : two terracotta vases containing a magnificent treasure dating from the first century. Now they are exposed to the Musée d'Aqutiane.
Tourism:
Three romanesque churches: Notre Dame de Tayac, Notre Dame de Saint Cibard, and Saint Martin de Francs (destroyed during the War of Religion that was rebuilt identically by Jean Gaufreteau).
The ancient Castle, wealthy remains of XIIIe and XIV century dominate the landscape.
Contact

Syndicat Viticole :
33570 Francs
Tel. 00 33 (0)5 57 40 66 58
Fax. 00 33 (0)5 57 40 68 13

website : http://www.cotesdefrancs.com